Whether you are looking for a travel system, compact stroller or city pushchair CYBEX have the perfect solution for you!
Each parent has different requirements when it comes to a pushchair, whether it's all-terrain for walks in the park, a lightweight pushchair for navigating public transport and city life or a full travel system giving you the option of making quick journeys with an infant car seat or use of a carry cot to act as a bed on the go. When choosing your pushchair or travel system there are a few things to consider;


How will you get from A to B with your little one? Will it be in a car, public transport or walking?
How is easy it is to fold?
Is it easy to store or fold into a car boot?
What do you see yourself doing with your little one? Will it be baby groups, coffee shops, long walks or city travelling?

CYBEX's Platinum pushchairs offer a solution to all of these questions. The PRIAM, ePRIAM and MIOS, all include impressive improvements that genuinely make life easier for parents with no compromise on style or functionality.

All of the 2022 Platinum CYBEX pushchairs -include easy to use features and functions that are designed to make travelling with your little one hassle free:
It's never been easier or faster to strap in your precious little one! The CYBEX one-pull harness ensures even the most energetic of babies can be safely secured in seconds. Similar to a car seat, simply pull the strap to automatically tighten the harness.
Easy-Adjust Shoulder Pads
no need to unthread the harness to adjust the shoulder pads as your child grows, the shoulder pads simply slide up and down ensuring comfort for your child at all times.
The seat unit can be reclined, with one hand, to an ergonomic lie-flat position making the seat unit suitable from birth or finding the perfect position for naps.
Switch the seat direction to suit both you and your child's mood and needs. Whether you want to look at each other for reassurance or playtime, or baby wants to explore all of the sights ahead in the big wide world, reversing the seat is fast and simple. Memory buttons on the frame make removing the seat really easy, press the button once, no need to hold the buttons
Seat that folds on the frame- Always have one hand free to hold your baby. Reclining and folding features that can be done with one hand, so you can recline the seat or fold down the pushchair to store – all while keeping your little one close. Plus, there is no need to take the seat off the frame to fold into a compact package that can also be freestanding.
Family holiday somewhere hot, or just strolling through the park, extend the XXL UPF50+ sun canopy to protect your child against the sun's rays. Even if you encounter an unexpected rain storm, the ultra-durable canopy is built to shield and protect against wind and rain providing a shower proof shelter until you find some cover.
Choose from the LUX Carry Cot, seat unit or simply add CYBEX Cloud Z i-Size car seat to build your ideal travel system.
All of the Platinum pushchairs come with car seat adapters, perfect for combining your pushchair with the Cloud Z i-Size, lie-flat, rotating infant carrier.
For those rainy days keep your little one safe from the elements with the raincover which is included with the pushchairs. The Lux Cot also comes with its own raincover.
The seat unit of the Platinum pushchairs can be used from birth to 22kgs which is around 4 years old.
Comfortable and warm footmuff, handy cup holder, and matching changing bag that comes with a handy changing mat inside.
Why choose the 2022 PRIAM?
If you are looking for a pushchair that will keep baby comfortable when walking across all terrains, whether you're planning family walks in the park or strolls around cities and towns the 2022 PRIAM could be the right choice for you.
Team your PRIAM with the LUX carry cot, ergonomic seat unit, and Cloud Z i-Size rotating and lie-flat baby car seat.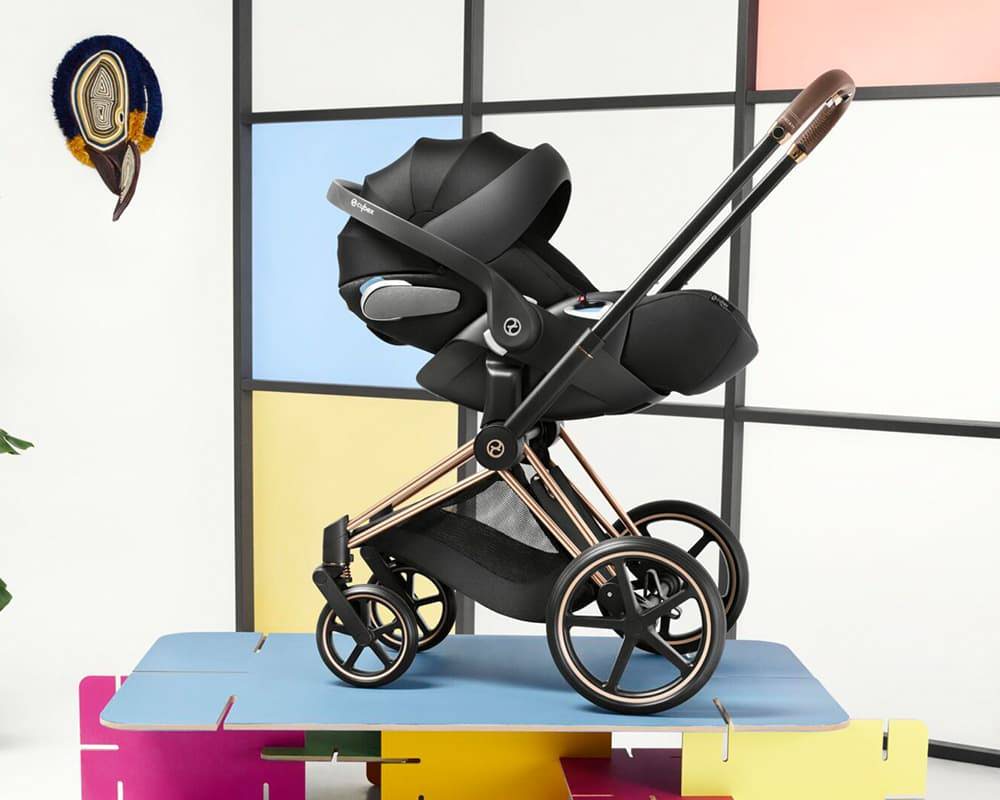 Cloud Z i-Size infant car seat
Award winning CYBEX Cloud Z i-Size is one of CYBEX's most popular car seats
Lie-flat position can be used from birth to support the natural sleeping position outside of the car
Easy one-handed 180° rotation on the Base Z makes getting your baby in and out of the car quick and easy – a must have
Designed to be compatible with the Base Z, which can also be used with the next stage car seat; the Sirona Z i-Size.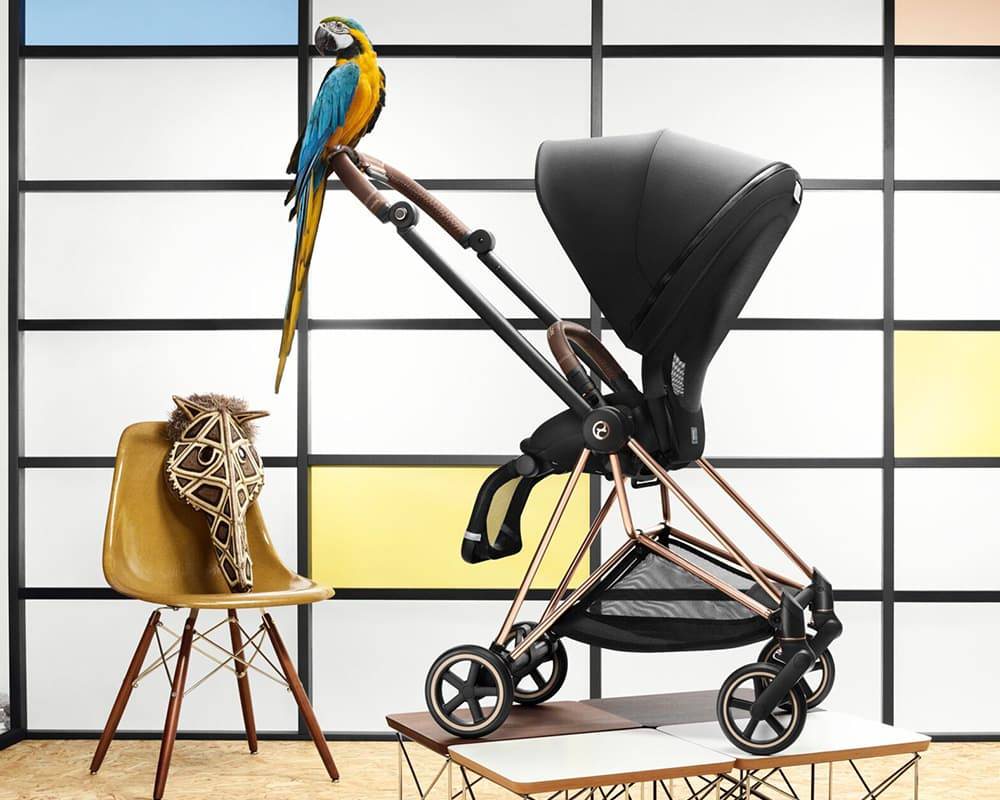 A sleek modern style frame, which offers timeless design elements, where every detail has been considered, from the matching colour suspension springs to complimenting leather handle and bumper bar.
Large all terrain wheels and all wheel suspension that offer a smooth and comfortable ride.
A completely-lie flat seat that can be reclined for naps on the go, choose to use the seat from birth to 22kgs (approx. 4 years).
Available in Rose Gold with a matching chocolate coloured handle bar, or chrome with black handle bar.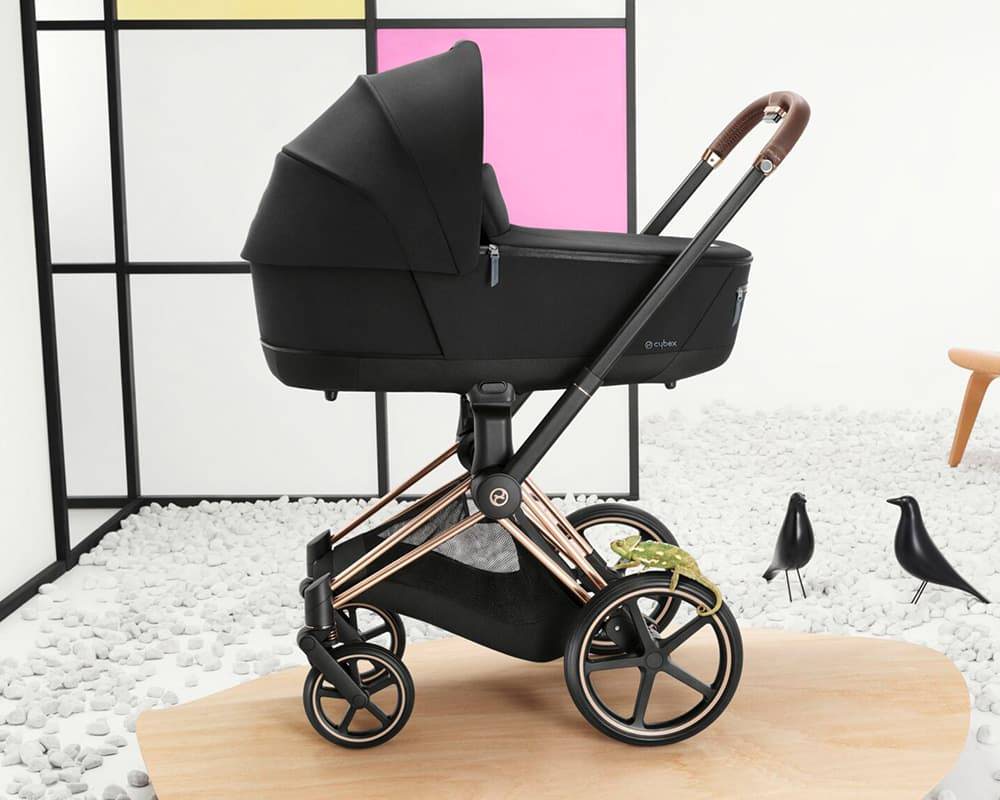 Pushchair and Seat Weight - 12.9kg
Carry cot weight - 5.3kg
Unfolded dimensions - L 92 / W 60 / H 109 cm
Folded dimensions - L 85 / W 51.5 / H 31.5 cm
The LUX Carry cot now sits 12cm higher on the stroller chassis (from the previous model). But what does this mean for a parent? Your baby can now be closer to you making it easier to check on and have that special bond with your baby .
Enjoy the breeze, and the view! The panorama and sky view windows of the CYBEX PRIAM LUX Carrycot keep your child cool at all times, while the mesh material allows for optimal air circulation. And it's perfect for tummy time and a view out to the world for your little one.
Your little one can enjoy a bed on the go, the 2022 PRIAM Carry cot has an ultra-soft memory foam mattress and comfortable head hugger, made from 100% cotton. The high quality materials keep your baby cool and can be easily zipped off and washed at 30°.
Available in Soho Grey or Deep Black fabrics.
Pushchair and Seat Weight - 12.9kg
Carry cot weight – 5.3kg
Unfolded dimensions – L 92 / W 60 / H 109 cm
Folded dimensions – L 85 / W 51.5 / H 31.5 cm
Why choose the 2022 ePRIAM?
The FIRST electric pushchair by CYBEX, imagine all the features of the CYBEX PRIAM but with a Smart battery powered motor that empowers you to glide up and down hills with ease, and smartly adapting to rough terrain like sand, gravel or cobblestones.
The ePRIAM, connects to the free app to activate and control a "rocking mode" function helping you calm your baby down to sleep anytime and anywhere. The e-pushchair moves back and forth, recreating a gentle rocking motion. No more tired arms for Mum or Dad.
Team your ePRIAM with the same options as the PRIAM above to create the perfect travel system for the tech savvy parent, or those looking to just make life that little bit easier.
Pushchair and Seat Weight - 15.2kg
Unfolded dimensions - L 94.5 / W 60 / H 116 cm
Folded dimensions - L 88 / W 51 / H 33 cm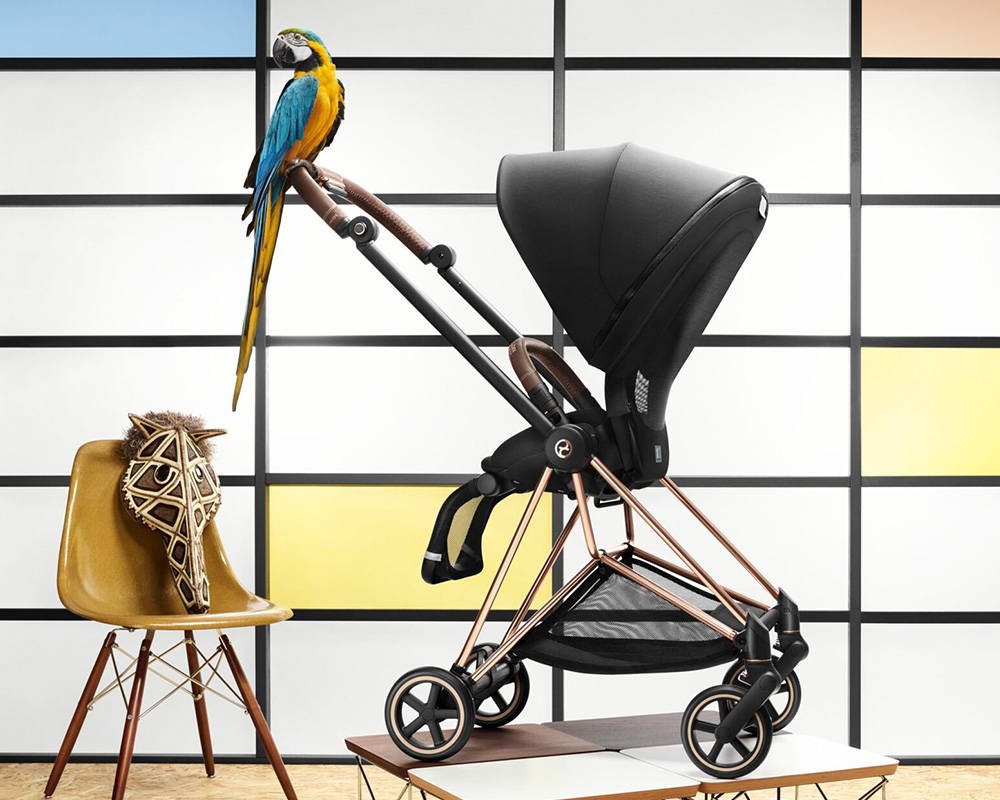 The Small Wonder, just 50cm wide the CYBEX Platinum MIOS perfectly adapts to the challenges of active, modern life. Whether you are looking for something a little bit smaller to travel around the city or to take up less room in your home, apartment or car boot.
Create a beautiful travel system by adding the Cloud Z i-Size lie-flat and rotating car seat, the LUX Carry cot and Lux Seat.
Available in Rose Gold with a matching chocolate coloured handle bar, and chrome with black handle bar, choose your frame and either Soho Grey or Deep Black fabrics and LUX Carry cot.

Pushchair and Seat Weight - 9.8kg
Unfolded dimensions - L 92 / W 50 / H 108.5 cm
Folded dimensions - L 65 / W 50 / H 30 cm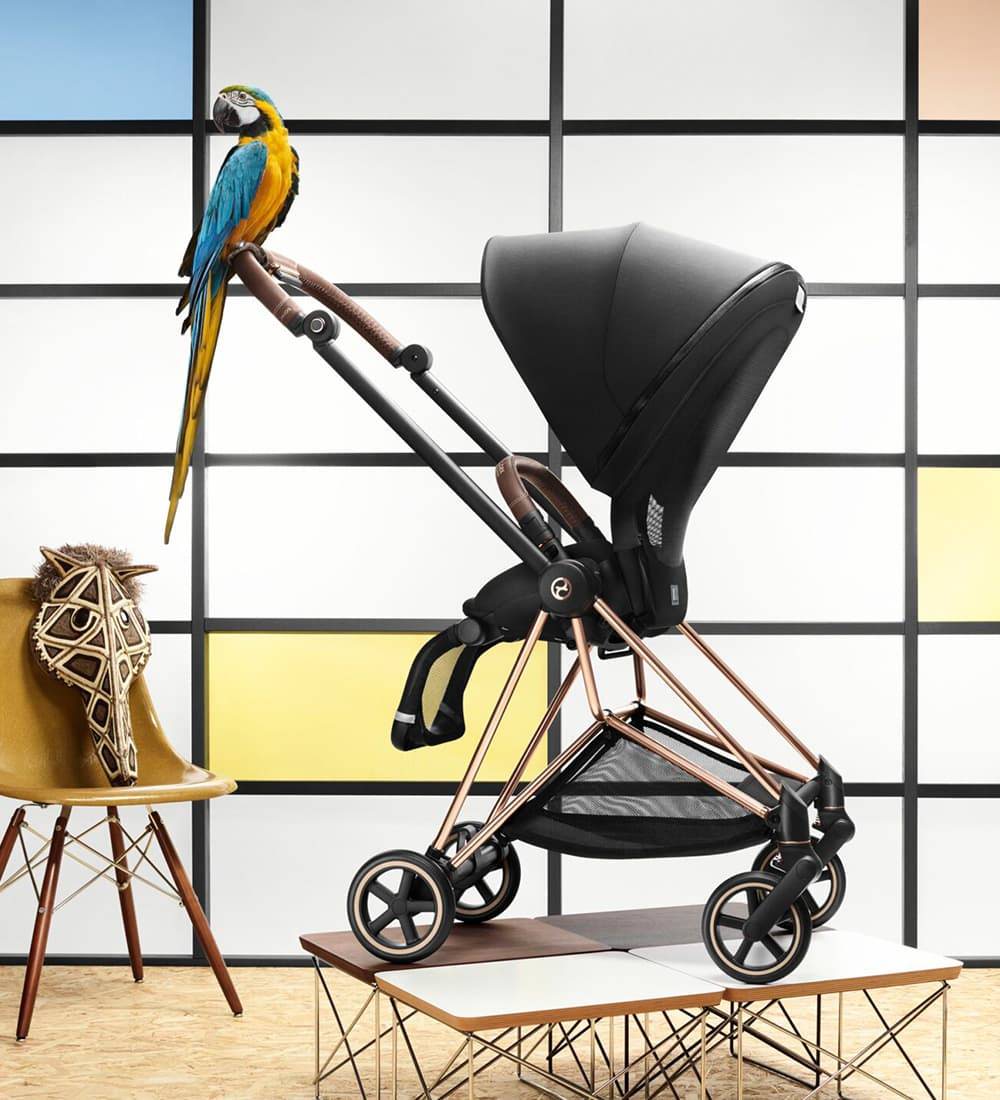 ---
Shop the CYBEX range today
---