Nesting can be a really exciting and creative part of preparing for your little one's arrival. Between planning a colour theme and picking out the perfect nursery furniture, there's plenty to think about – so we get that your DIY to-do list can sometimes feel a little overwhelming. That's why we've put together our top tips when it comes to picking out your dream furniture and putting all those creative nursery ideas into practice.
---
Even if you've got your baby's room picked out, it's worth asking yourself the following questions to make sure that the space will work for you and your little one.
Is it close to your room?
Even if you've got your baby's room picked out, it's worth asking yourself the following questions to make sure that the space will work for you and your little one.
Is it the right temperature?
Your nursery needs to be warm enough in winter and cool enough in summer - the NHS recommends a night-time temperature of around 18°C. If you're unsure, pop a thermometer in the room and keep an eye on it over the course of a few nights.
Is there good air ventilation?
If you don't have a window that you can open and close, it's worth investing in a fan or an air purifier to give your nursery good air flow.
Plenty of natural light will be good for you and your little one, but bear in mind that you might need to choose black out curtains or a blind for daytime naps.
Measure out the space where you imagine your cot will go, and where you might need room for a wardrobe, dresser, changing table or nursery chair. Don't forget to leave a little space for playtime, and for you to move about freely when you're changing nappies or lifting your little one out of bed.
---
Step 2: Get some inspiration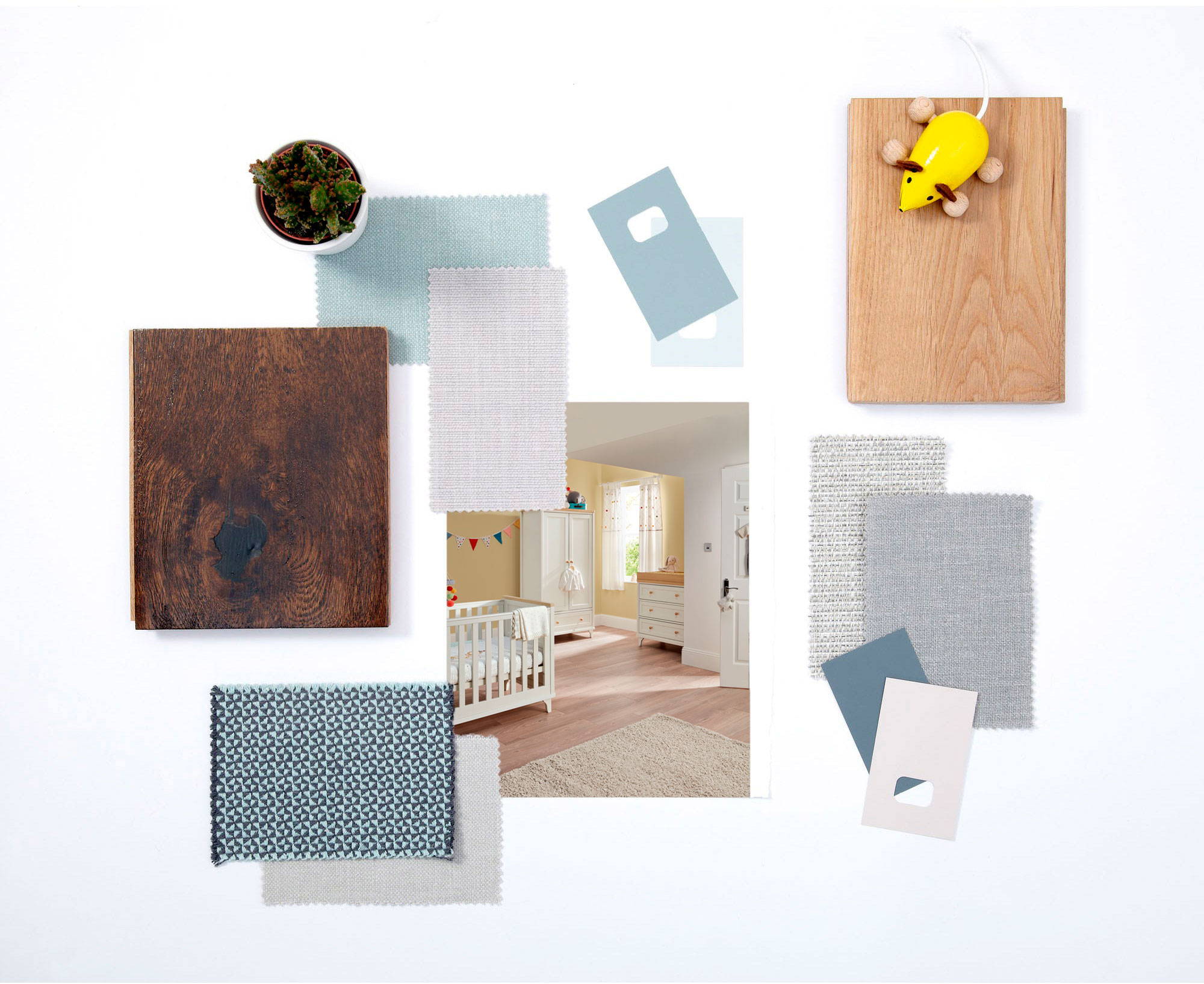 This is where the fun starts. When it comes to picking a colour or a theme, you can browse for inspiration online, create a mood board or a scrap book, or even pop over to your friends' and family members' homes to have a nosey at their nurseries. Asking questions can be really helpful for your planning, too. What do other parents love about their nursery and why? What do they find most useful, and what do they wish they'd known before their little one came along?
Don't forget that your baby won't be fussy when it comes to colours and themes, so it's important that you love your nursery space too. If you're having a boy and you really love pink, go for it – this is your space to express yourself and what your family's all about.
---
Step 3: Choose your nursery furniture
Now you've decided on your theme and colour, it's time to pick out your must-have pieces. Once these are sorted, it'll be so much easier to plan your finishing touches and fabrics around your furniture. We recommend going for a classic nursery furniture set that'll grow with your little one. This means simple colours, timeless finishes, and pieces that'll adapt. We've broken down some of the staples you might want to think about below.
---
Cot or Cot Bed
Some cots convert into toddler beds or even day beds, which can last until your little one is 4 years old – sometimes even longer. Look for a cot with different height positions. This means you can lift baby in and out of it really easily, even when they're a little bigger.
---
Wardrobe
Look out for a baby wardrobe with drawers for extra storage, and make sure that it'll fit bigger children's clothes as well as tiny sleepsuits. Some of our own models will even fit adult-sized clothing, perfect for when your own wardrobe is overflowing.
---
Dresser Changer
Going for a dresser with a removable changing table on top is perfect for saving room in your nursery. When your baby is grown, you can simply take the top off and use it as a normal dresser. We love dressers with towel hooks on the side – perfect for post-bath time changes.
---
Nursery Chair
However you choose to feed your baby, you need to be comfortable when you snuggle down to do it. Make sure your chair is well cushioned, with armrests to support you both. You might want to look out for a chair that also rocks. This'll help soothe your little one to sleep.
---
Step 4: Plan out your storage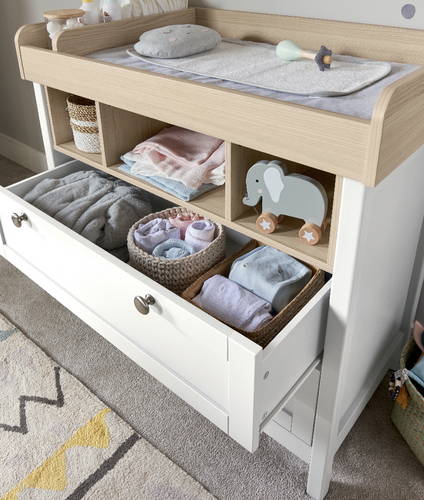 Your little one might be small, but they certainly do come with a lot of things. From cute outfits to cuddly toys and nappies, it really pays to get smart with your nursery storage. Look out for under-cot drawers which are perfect for spare bedding and blankets, or wardrobes with shelving space built-in. Putting some shelves above your changing station will keep your creams and powders out of reach of your little one, too. Boxes and empty bins that you can slot on or under shelves are perfect for tidying up toys – and don't forget to earmark one for those dirty nappies!
---
Step 5: Add your finishing touches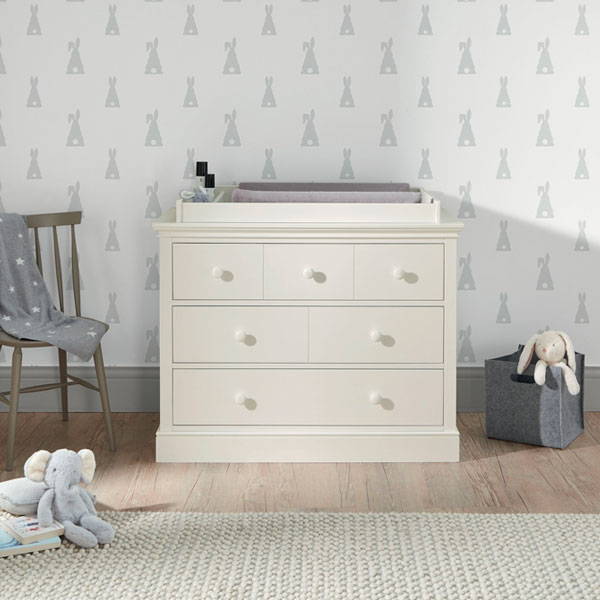 Whether you're going for paint or paper, having a feature wall will really add a little personality to your nursery. You could choose some patterned wallpaper, or a mural featuring your favourite animals. Our top tip is to go for patterns that aren't too bright or busy to make sure your nursery feels calm and soothing for baby. Our range of wallpapers and prints have all been designed with this in mind.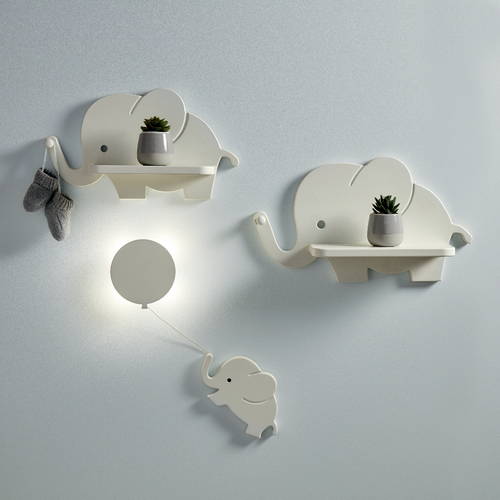 Go for soft, gentle lighting that won't feel harsh in your nursery. Nightlights are really useful for helping your little one drift off, whilst a lamp next to your nursery chair will be a lifesaver for those night-time feeds.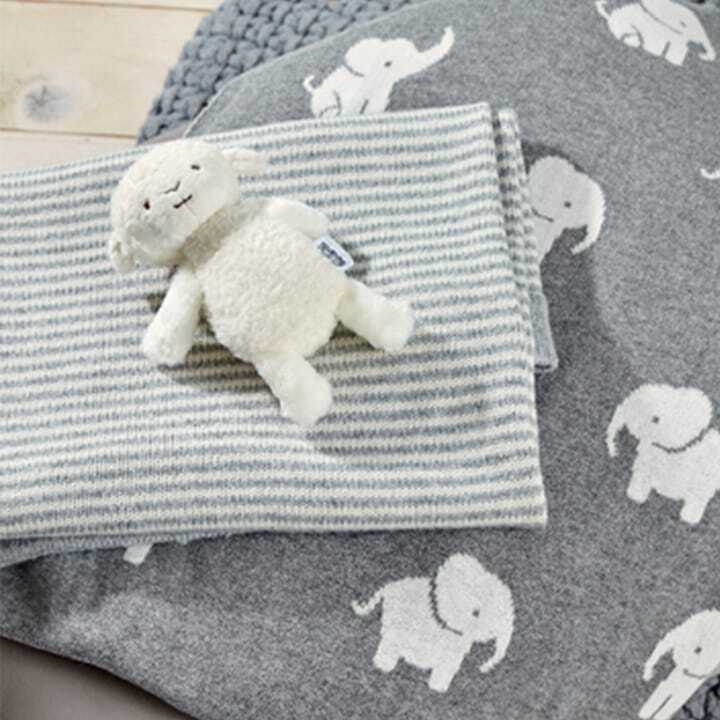 Now you can finish off your nursery décor with cosy textures and perhaps even the odd pop of colour. Think snuggly blankets, a rug, pillows and mobiles that match or contrast with your colour scheme. If you need a little inspiration, we've developed a range of matching interiors and prints that'll fit with most colour palettes.
---
Rather than doing all the baby-proofing when your little one starts to move about, think about doing it as you're decorating your nursery – that way you know it's a safe space from the get-go. We recommend choosing furniture with soft, round edges. Once your furniture is up, make sure that it's all secured to the wall. If you have a wooden floor, think about getting a rug and fixing it to the floor, and make sure you have plenty of high shelving for anything you want to keep out of reach.
---
Hopefully we've helped you feel a little more organised when it comes to building your dream nursery space. Remember to take your time and don't pile the pressure on yourself to make it showroom-perfect for your due-date. The beauty of creating your own nursery space is that once you've got your staple pieces in place, you can keep building on it even after your little one has arrived, adding personal finishing touches as their personality grows.
Don't forget that there's no right or wrong way to decorate – choose colours you love and a theme that reflects you and your growing family. The most important thing is to make sure that it's a calming space for you to relax in, so you can soak up every moment of life with a little one.
---