The Hilston Nursing Chair is one of our best sellers, for a number of reasons. Maybe it's the ergonomic design with cushioned support, making the chair perfect for nursing and feeding. Or maybe it's the timeless, classic design that enables the chair to look at home in any room. Read Hollie Robinson's Hilston Nursing Chair review, a real review written by a real mama. 
---
The one thing I wish I had in those early, exhausting but beautifully blissful newborn days? 
A baby nursing chair. 
I was a little late to the party on this one, and while I managed nursing my little boy just about anywhere and everywhere around our home, I can't help but think how much easier it would have been with a feeding chair.
Instead, I propped up pillows and bought fancy breast feeding cushions to ease the dull arm and back ache that was one of those little signs that probably should have prompted me into getting a Hilston Nursing Chair sooner. I just didn't really know much about nursing chairs at all and reluctantly as a new mama I was still too in awe of my little bundle and pushing on through the late nights to even look into one.
Finally, and thankfully, the day came when I looked into nursing chairs & I found the perfect one...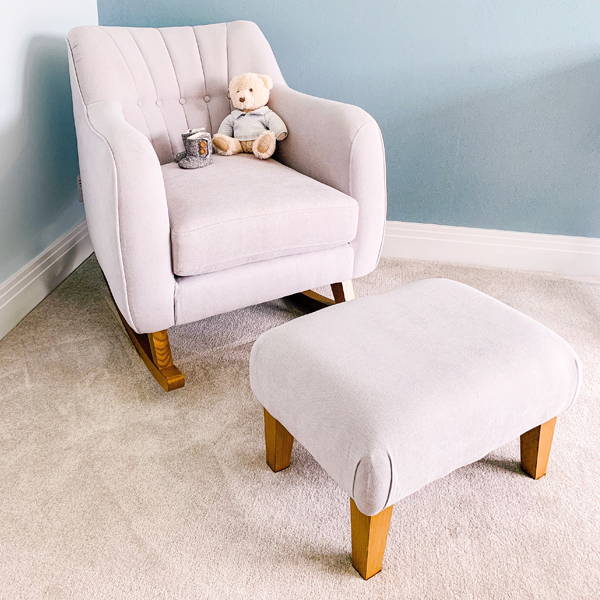 It was comfy beyond belief, and looked stylish too, unlike most other nursing chairs I have seen! We opted for a chic and understated grey, but also adore the gorgeous velvet styles too. 
Although I was mostly bottle feeding when we received our Hilston, I could still envisage all of the amazing moments we would get from having a snuggly armchair in Archie's room. 
I don't know why I didn't get one sooner, we use it so much even now with Archie being 15 months old! It's a huge part of our bedtime routine especially as he gulps down his milk and listens to a bed time story on my lap. Even Archie's daddy loves the special moments spent tickling, cuddling and rocking Archie in the chair after work. 
If we are lucky enough to welcome another son or daughter into our lives someday, we know we will get so much more from it too! The Hilston is the best nursing chair and is the perfect investment for any new family, that will grow with you as your little human does too. 
If you enjoyed reading Hollie Robinson's Hilston Nursing Chair review, you can read more reviews from our Parent Approved Panellists on our blog.