Whether you are a first time parent or wondering what car seat to choose as your little one grows, the world of car seats can be confusing and overwhelming. The questions every parent asks are, are all car seats as safe as each other? What is the law vs. recommendations? We've teamed up with the experts at CYBEX to explain more about car seat law and safety testing scores…
Even though parents around the world are all so different, they have one thing in common. They all share the same concern for the safety of their children, particularly in the car, and this is a topic where compromise is simply not an option.
To help parents choose the right car seat or infant carrier for their children, standards have been implemented across the world. In Europe, seat manufacturers currently must comply with standards UN R44/04 or UN R129 (including i-Size). These standards mean every seat on the market has passed the current law and is safe to use, however, there is a difference between car seats, many are manufactured with features to have improved safety which is evaluated and tested over and above the law.
These tests are in addition to the legal requirements, child car seats are also checked and tested by independent testing institutes such as General German Automobile Club (ADAC), Stiftung Warentest and Which? . To emerge as the safest product in such a test, products must meet stringent requirements in a variety of different categories. Accordingly, safety standards are under constant review.
The table below shows the safety criteria of the law and consumer tests:

With so much choice available to parents, many brands share ADAC scores for consumers to compare their car seat against others and they can use to make an informed choice. But who are ADAC and what does it actually mean if a car seat has scored well in an independent car seat test?
ADAC are Europe's largest and most respected independent motorist association, testing many areas relating to motor vehicles including children's car seats. The ADAC test is the best-known and most important test for child restraint systems in Europe.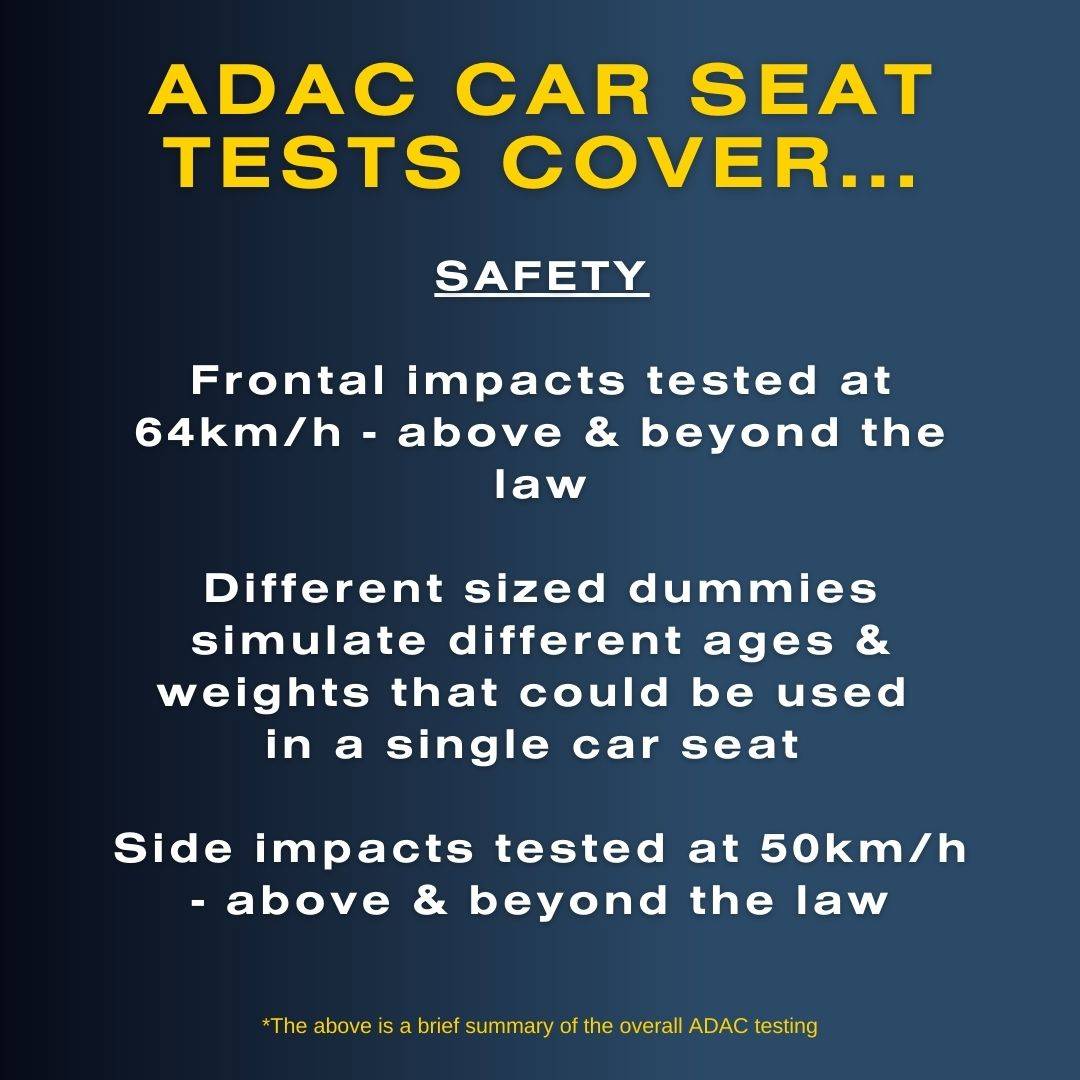 Once or twice a year the ADAC tests car seats of each group in a crash simulation of frontal as well as side impacts. The frontal crash is tested at 64 km/h (39.7 MPH) and side impacts at 50 km/h (31 MPH). These speeds are similar to those used by Euro NCAP when crash testing manufacturers' new cars to award their star ratings.
They use different sized dummies to simulate different age/weight groups of children that the car seat could be used by, they have different sensors to mimic this.
In addition to the safety aspect, handling & ergonomics, cleaning & workmanship as well as harmful substances are further test criteria a car seat is subject to scrutiny.
The scoring system used by ADAC is shown below, the lower the score, the better the performance.

Let us introduce you to the safest seat ever tested by ADAC…
According to ADAC the "Cybex Anoris T i-Size was the only forward-facing child seat in the test to receive the rating "very good" for its protection in a frontal impact. The Anoris T i-Size is approved for children from 76 cm to 125 cm in height". Crash tests were carried out with dummies the equivalent to a 1½ and a 6 year old child in each of the sitting and recline positions.
So why did Anoris get such an amazing score?
The airbag deploys about 25 milliseconds after the impact, initially filling the entire area between the dummy and the impact shield and then unfolds over the impact shield in the direction of the dummy's head.
Due to the fixed Isofix connection between the seat and the vehicle and the good coupling of the dummy to the seat (through the airbag), the dummy is decelerated almost simultaneously with the vehicle – just as it would in a good rear-facing child seat.
The CYBEX Anoris T i-Size, the first seat with an integrated full-body airbag, achieved an unprecedented overall score of 1.5 in the category "toddler plus child", as well as a top score of 0.9 in frontal and side impact crash safety and 1.2 in the overall category of "safety".
In fact, these latest test results illustrate the advantages of the new airbag technology created for the CYBEX Anoris T i-Size, demonstrating a better performance compared to conventional rear-facing seats.
The actual test rating for frontal and side impact crash performance from the ADAC, ÖAMTC, Stiftung Warentest and TCS was 0.9 – a score never before seen in the test's history!
What makes this result so interesting…
The law states a child should travel rearward facing up to 15 months and 76cm and the nursery industry, including us here at CYBEX have recommended rearward travel for children to at least the age of 4 years and if possible 6.
However, recent research conducted by "Child Seat Safety", the UK leading independent advisors on child in-car safety; providing training and advice to the Car seat industry, Retail, Government, Emergency Services Consumers, found that 58% of parents had chosen to turn their baby to forward facing despite being in a seat that offered rearward facing use up to 4 years old (Sample of 2000 inspections from 1st January 2018 to present (no checks were carried out in 2020).
This research shows the parents' wish to travel forward facing and the CYBEX Anoris T i-Size offers a solution to this situation with unprecedented safety scores from 15 months to 6 years old in the clearly preferred forward facing position. For those parents who would still prefer and are able to keep their child extended rearward facing, we still offer superb safety & comfort with our award winning seats such as the Sirona Z i-Size and Sirona S2 i-Size.
Why choose the Anoris T i-Size?
The impact shield of the Anoris T i-Size contains the revolutionary airbag, delivering unparalleled protection faster than the blink of an eye. In a frontal collision the airbag inflates within milliseconds, protecting your little one's head, neck, and body before the force of collision can even reach them.
The airbag forms a C-shape around the impact shield, designed to stop forward motion, reduce abdominal pressure and hold your little one securely in place. This innovation not only achieves unprecedented safety levels and a more compact shield design but also help parents choose the comfort of forward-facing travel with peace of mind.
Forward-facing travel enables easy eye contact with your little one as communications are open and unobstructed. At an age where every interaction is so important, the Anoris T i-Size means you can ride with your little one forward-facing and without compromising on safety.
Rear-facing car seats can limit the longevity of use, as this position offers little legroom for a growing child. In a forward-facing seat, growing limbs have ample space to stretch and move for unrestricted comfort at every growth stage. With 3 recline settings your child can enjoy both riding whilst awake and in sleeping position too plus with the easily accessible adjustment handle, you can maneuver your little one in and out without needing to wake or disturb them.
Advanced car seat shell design gives the all-new Anoris T i-Size a spacious seat with plenty of room to grow until 6yrs old3 – with the same unparalleled safety. The adjustable impact shield and headrest is perfect for a safe, snug fit at every stage!
Awarding winning CYBEX Car seats
---
1 When compared to a forward-facing harness child seat in a frontal crash. Results of internal testing using 2021 ADAC frontal crash test criteria.
² Müller G.; Kühn M.; Karakus B.; Bende J. 2019. "Misuse of Child restraint systems: Additional Aspects of the 2017 GDV Field Study." Gesamtverband der Deutschen Versicherungswirtschaft e. V.,
Forschungsbericht Nr. 55.
³ 76 cm – max. 115 cm or 21 kg⁴ Müller G.; Kühn M.; Karakus B.; Bende J. 2019. "Misuse of Child restraint systems: Additional Aspects of the 2017 GDV Field Study." Gesamtverband der
Deutschen Versicherungswirtschaft e. V., Forschungsbericht Nr. 55