If your hospital bag is all packed, the only thing left to think about is what baby will wear on their first trip home. With style and safety suggestions, we'll help you find the ideal outfit for making an entrance.
---
Bringing baby home from the hospital is possibly the first big milestone in baby's life, after, you know, being born and all that. Whether you're one of those mums who are in and out in a matter of hours, or you end up spending a little more time in the hospital, that first trip home can't help but feel significant.
No doubt you'll be a bag of nerves, no matter how many times you double or triple check the car seat, you'll never quite feel settled until they're back home. You'll also find that you'll be driving so far under the speed limit that it'd be quicker to get out and push. But it's all part of that special first trip.
And as with any special moments, you need a special outfit.
What should my baby wear on their first trip home?
It all boils down to personal preference. You might decide to go with something soft and simple, or you might want to inject a bit of style to really make an impact. Either way, the two factors you want to consider are warmth and comfort.
As long as your newborn baby is warm enough and comfortable, then really anything goes. As with any other time of their life, you want to make sure they feel safe, secure and snug – the car ride is a perfect chance for them to sleep; so unfussy clothing that keeps them at the perfect temperature is ideal.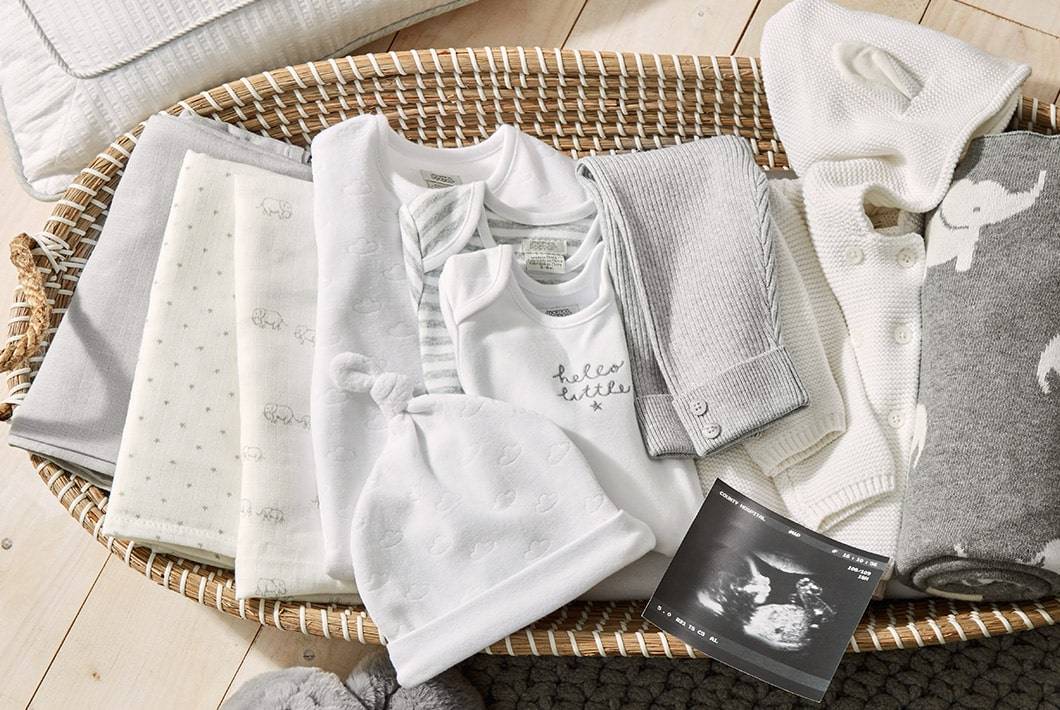 ---
What should I consider when planning baby's first outfit home?
Think about your environment. Is it summer or winter? Do you need to make sure your baby keeps warm, or stop them from overheating? Obviously, you'll have your car radiator to help adjust to the perfect temperature, but it will also help if you consider the weather when planning the ideal outfit.
It goes without saying that in most cases baby needs to layer up to keep warm, but if it's in the middle of summer and you know your car struggles to stay cool, go for a lighter outfit. You can always add additional blankets if you need to.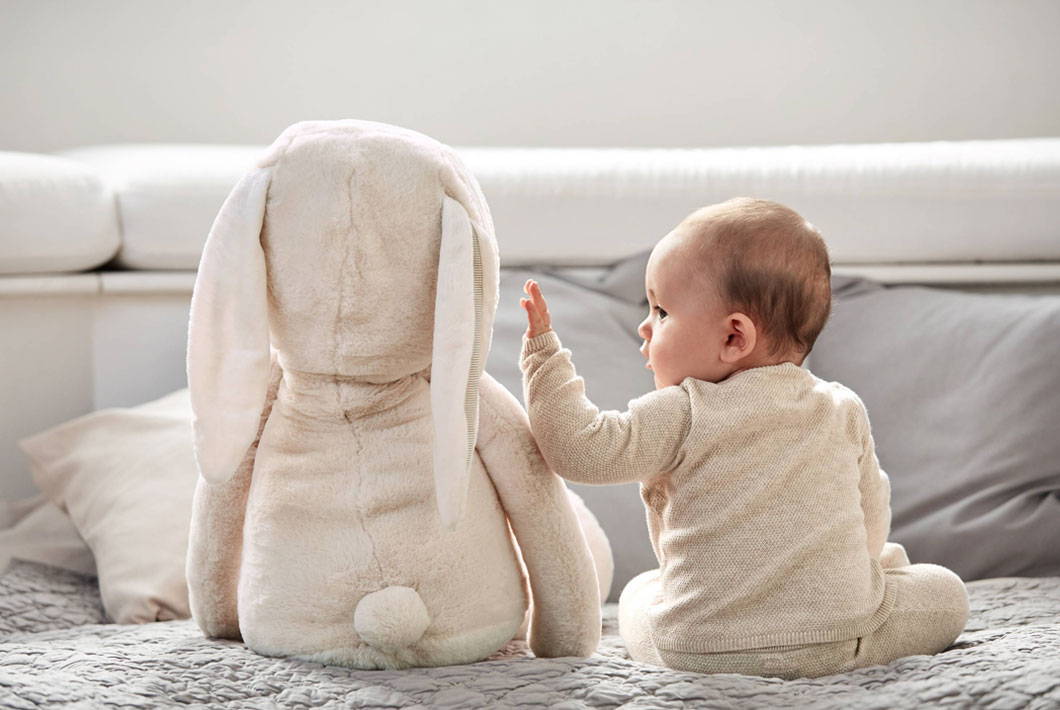 ---
What clothing features should I look for?
As with any newborn outfit, you need to consider dressing and undressing them with ease. You never know when a smelly little incident might rear its head, so consider rompers or all-in-ones that are quick and easy to remove.
Enveloped necklines are a great way to get baby's clothing off easily, especially as you'll be busy protecting baby's head while you dress them. If your outfit has buttons, make sure they're up the front. You don't want to be turning baby over to fiddle with buttons on the back.
Scratch mitts and integrated feet are great for keeping the heat in. But you can use socks and mittens if you want.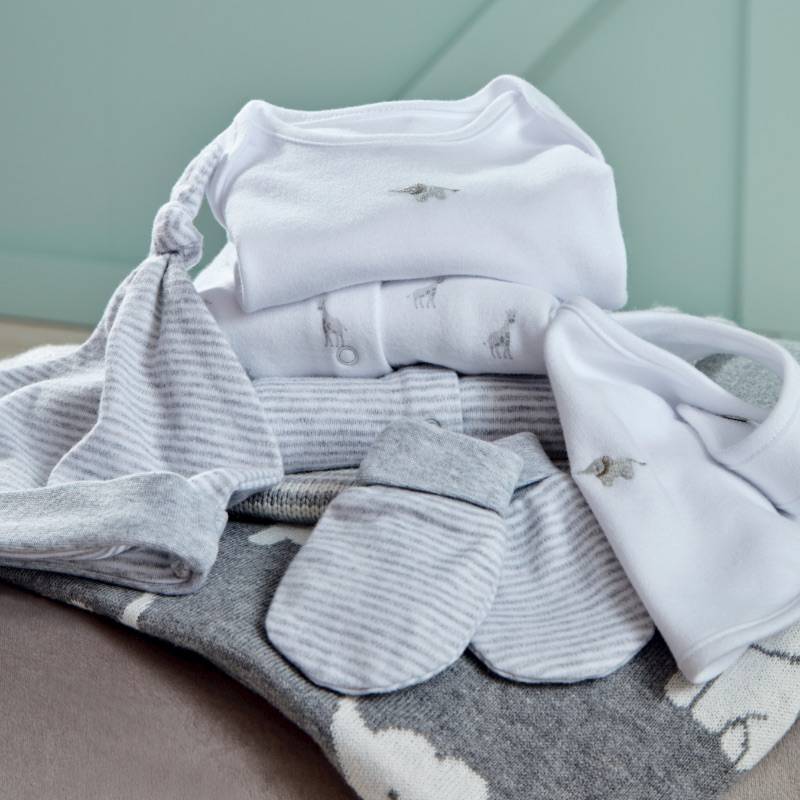 Newborn outfits | Soft, cosy cotton
With all children's outfits, but particularly newborn outfits, you want them to be soft against baby's skin. Soft cotton like bamboo is ideal. Some even come with anti-allergy properties so that they don't irritate your child.
Our Welcome to the World range is made up of outfits made with super soft cotton, to keep your little one warm and cosy. Taking inspiration from traditional babywear trends, they're classic and timeless and designed to suit your child on that first journey home.
Occasionwear | Special outfits for special occasions
If you fancy making more of a statement, then looking at children's occasion wear could be the way forward. Most collections are made up of delicate party dresses and smart shirt and tie sets – some available in romper-form. They're a great way to add a little flourish of fashion to the proceedings.
Mamas & Papas Occasion Wear range takes current adult trends from the world of fashion and infuses them into 'mini-me' styles that suit little ones.
Casual clothing | Comfortable and practical
Sometimes, simple is best. With casual clothing you can be sure to keep your little one comfortable. They're also ideal if you're faced with mess from feeding or changing, practical outfits that you don't mind getting a little mucky. There are lots of great contemporary collections out there.
If you're looking for simple but stylish suggestions, our Everyday Special range could be just the thing. With a range of brightly coloured soft pieces, they're perfect for making the most of those everyday adventures.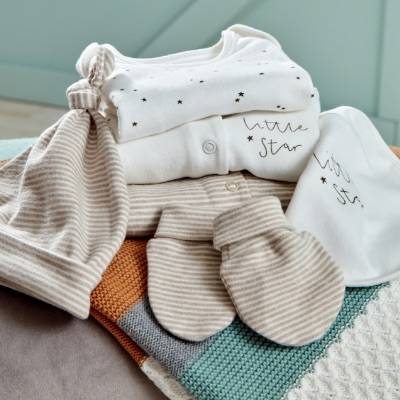 Baby Basics | Keeping things simple
If you prefer to keep things unfussy then there's nothing wrong with some classic baby essentials. Rompers, babygrows, pyjamas, vests and all-in-ones are the easiest way to keep your little one layered up and cosy, without the need for any unnecessary detail.
Our rompers and all-in-ones are an ideal solution and they all come with nickel-free poppers so they don't react with your child's skin. Available in multipacks, it's a great way to stock up on these baby essentials.
---
Other clothing accessories to consider
If you're dressing baby up for trips out, even if it's just home, here are some key essentials to remember for your trip.


Hopefully, we've been able to give you a few helpful suggestions to find that ideal outfit for baby's first trip home from the hospital. Whatever you choose though, the most exciting thing will be the moment you walk through that door with them.