The run up to Christmas can have the whole family acting like big kids – there's a little bit of magic in the air, everybody's excited for a visit from Father Christmas and there may be one or two sugar highs going on. So, we're here to help make the most of every day of December with some Christmas crafts and activities for the whole family, and to inspire some new family Christmas traditions. From Christmas crafts to decking your halls, it's time to round up your little ones for a little bit of festive family fun.
---
Putting up the Christmas decorations
Turning your home into a winter wonderland is the perfect activity for the whole family to get involved in. We've got some top tips for decorating with your family – but we won't blame you if you can't help rearranging a few baubles once your little one has gone to bed!
Tinsel Tricks
If your little one is big enough to help you decorate, give them the job of wrapping some tinsel around your tree. Bright, sparkly and fun to feel, they'll love stuffing it in between the lower branches.
Beautiful Baubles
If it's your first time putting the tree up as a family, hanging up baby's first Christmas bauble will help you remember the occasion year after year. Our baubles are hand-painted with cute festive characters and the year of your little one's first Christmas – and because they come in a gift box you can stash it away safely for next year.
Hold your own Christmas light switch on
Once all of your decorations are in place, turn your fairy light switch on into a bit of an event. Wait until it goes dark and pop on some festive tunes, then gather the whole family to count down – they'll love watching the colourful lights twinkle to life.
---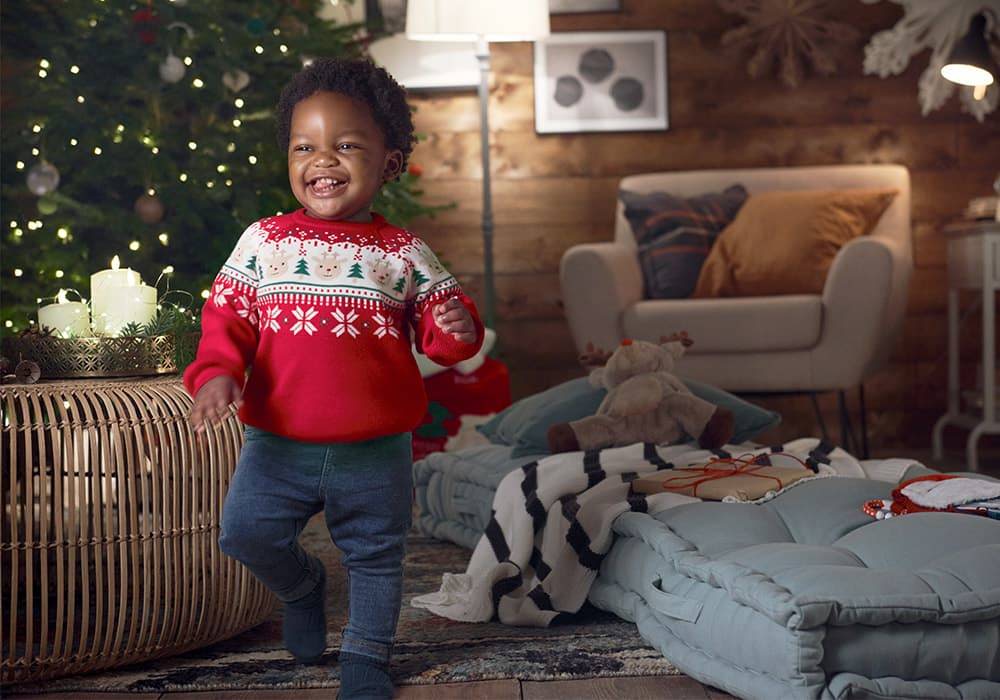 Christmas Chains
Decorate the room with colourful paper chains made by the whole family. All you have to do for this simple Christmas craft is cut some paper into strips and link them together with sticky tape or glue – you and your little ones can make them as decorative as you like with glitter, patterned paper or even doodles.
Paper Plate Rudolphs
Making paper plate Rudolphs is another fun and easy Christmas craft for your little ones. All you need is paper plates, brown paper, brown paint and of course something red for Rudolph's shining nose. Your little one will love turn a boring paper plate into the face of Rudolph with their imagination and creative personality.
Finger Painting
Finger painting might be a little messy but it's a super-fun craft that can be done all year round. To turn it into a Christmas craft you can enjoy year after year, pour out some white paint for your little ones to stick their fingers into, and create a beautiful winter wonderland on coloured paper.
Our top Christmas crafting tip…
Our top Christmas
crafting tip…
Splash mats aren't just for keeping Christmas dinner off your floor. Pop one under your table when your little one is busy crafting and you'll be able to easily wipe away everything from paint to glitter. Easy!
Whether you've got long-standing Christmas traditions that you've enjoyed since you were little, or you're making brand new ones with your growing family, Christmas is all about creating little rituals and Christmas traditions you can all enjoy, year after year. Christmas Eve is the perfect time to kick off a new tradition, and we've got a few ideas to get you started.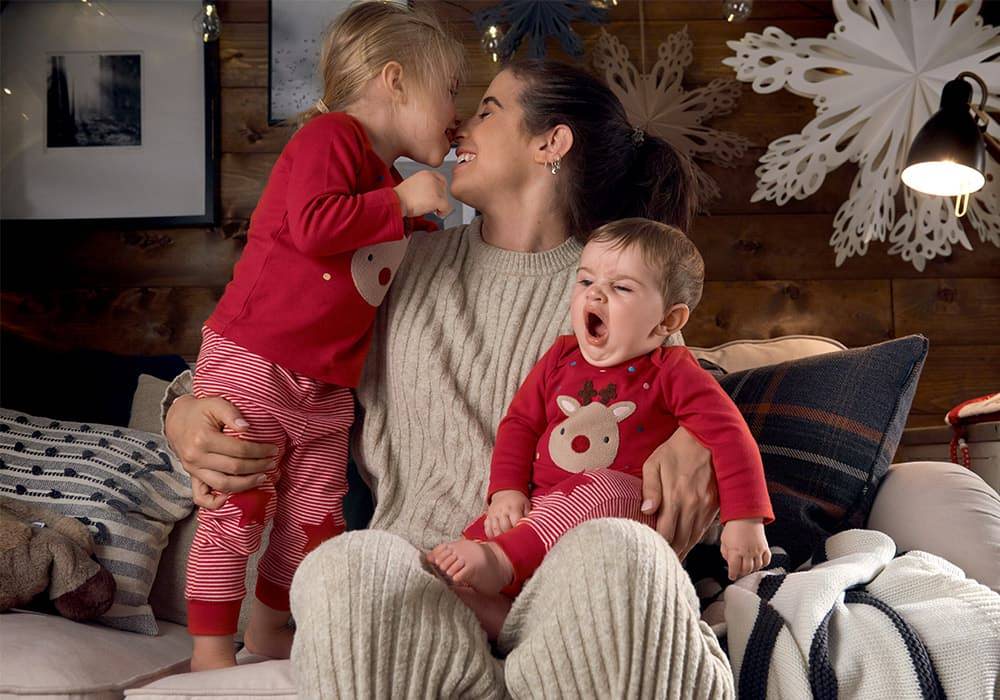 Hold your own pyjama party
A visit from Santa requires a very special pair of PJs, making Christmas Eve the perfect time to host your own Christmas pyjama party. Our PJs are perfect for popping on your little one whilst you're enjoying everything from festive films to cheesy Christmas tunes, and we won't blame you for making it extra merry with a hot cocoa or two...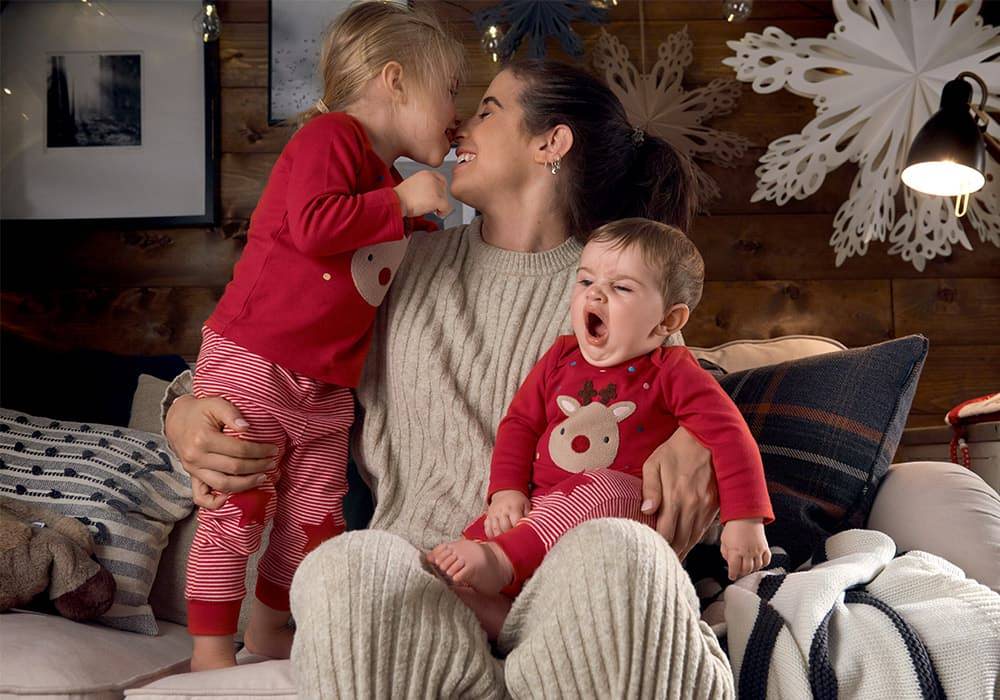 Hang up their stockings
Before your little one goes to bed, get them involved in hanging up their Christmas stocking. Whether it's at the end of their bed or on the fireplace, they'll love seeing how it magically goes from empty to full of little treats on Christmas morning. Our Christmas stockings are super-snuggly and can even be personalised with your little one's name, so Santa will know where to put all of those presents.
Christmas Eve Boxes
Gifting your little one a Christmas Eve box is the perfect way to kick off all of that festive excitement. Anything goes with these special boxes – think a new pair of PJs, a stocking to hang up, a special book to read or even a little cuddly toy to send them to bed with. Perfect for getting your little one involved in some Christmas Eve traditions, you could even finish yours off with some treats to leave out for Father Christmas – don't forget a carrot for Rudolph!
---
---